Are you someone who is a bit skeptical about solo travel in India, let me tell you many of us feel the same when it comes to travelling solo across India.
If you ask me "Why travel Solo?", I would say "Why not!".
Conventionally vacations in India have always been seen as an opportunity to connect with your loved ones, being surrounded by friends and families, friends of friends, and families of families.
However in recent years as the millennials are setting the new normals, Solo Travel is seen gaining a lot of popularity, particularly amongst female travelers.
There is an element of freedom in solo travel, and a deeper sense of connecting with the inner self. You are in charge of it fully, whether to stick to a plan or do it completely spontaneously.
As a solo traveler, you would probably create an experience of a place that completely merges with your individuality.
So if you haven't tried traveling by yourself yet, you should. As a bit of encouragement, here are the five most spectacular destinations that are perfect for solo travel for women in India.
Dharamshala, Himachal Pradesh
The Little Lhasa or the home to the largest Tibetan temple outside Tibet, Dharamsala also has the monastery of the Dalai Lama. The upper part of Dharamsala, known as Mcleodganj is more famous among travelers.
Top Attractions: Triund Hill, Dalai Lama Temple, Bhagsu Lake, Tibetan Museum.
Getting There: Easiest to reach by a flight to Dharamshala, taking a bus or train is a better option to get a feel of your trip. The best time to visit is March to October. It's ideal even for a weekend getaway.
2. Shillong, Meghalaya
Shillong is one of the wonderful tourist places for nature lovers. Here you will be mesmerized by the panoramic view of nature. The beauty of Shillong, the capital of Meghalaya, will make you feel like a paradise.
You will be mesmerized by the view of the rising sun over Shillong Lake, located at a distance of 15 km from Shillong city.
Top Attractions: Elephant Falls, Umiam Lake, Shillong Peak and Viewpoint, Laitlum Canyons.
Getting There: Easiest to reach by a flight to Guwahati and then take a bus/ car to ShillongThe best time of visit is March to October.
5. Pondicherry or Puducherry
With French influence in its architecture, this sleepy little place is perfect for a serene, beach getaway. The food has a lot of French influence too and beer is cheap, making it a place to if you want a real culinary experience. On a lighter note if you want to go to France but don't have the money yet, go to Puducherry instead!
The Auroville temple is a place to visit if you want to reconnect with your spiritual side.
Top Attractions: Sri Aurobindo Ashram, Seaside Promenade, Rock Beach, Paradise Beach & Auroville.
Getting There: Easiest to reach is by a flight to Chennai, then taking a bus or Cab. Pondy is very easy to get around on foot or bicycle, it's a popular weekend destination from Chennai.
4. Khajuraho, Madhya Pradesh
Whether you are an avid lover of history and culture or not, you will find it is a perfectly soulful experience to be in Khajuraho. This small town boasts of some the most amazing temples in India, also you can enjoy a deep dive into nature and wildlife. Street food or Continental Restaurants, loads of options are available for your tastebuds here, not to be missed.
Top Attractions: Temple complex, Panna Tiger Reserve, Ranneh Waterfalls.
Getting There: Easiest to reach is by train. Khajuraho has its own domestic airport at a distance of two km from the temple sites. It has flights connected to Delhi, Mumbai, Bhopal, Varanasi etc. It gets absolutely splendid during monsoon months. The famous dance festival happens during the month of February.
5. Goa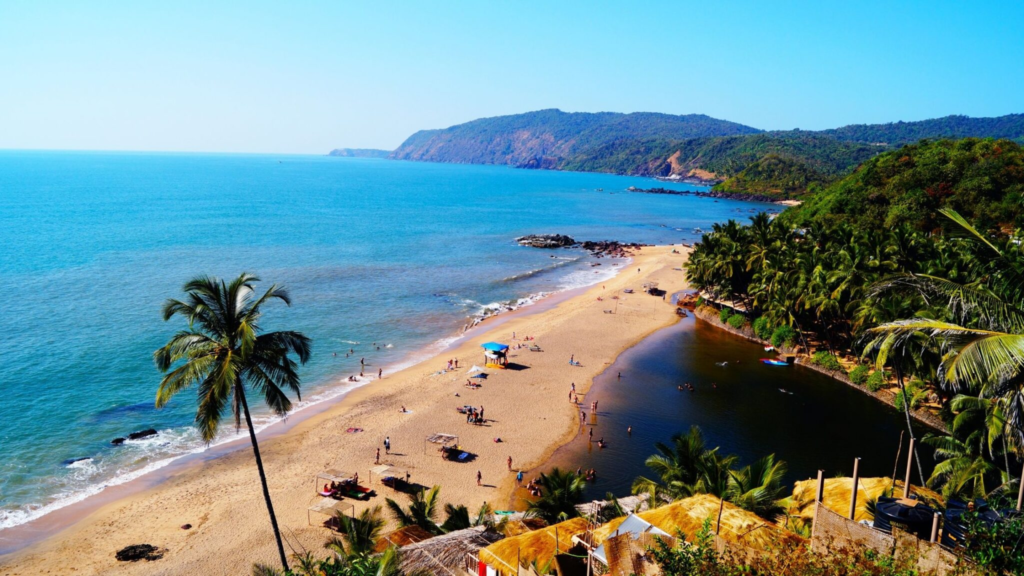 Goa is easy and perfectly safe for solo travelers. Moreover, with countless music festivals, international concerts, and of all kinds of artists being around, you might not feel that solo. Goa attracts thousands of youngsters and the young at heart throughout the year, and you can connect with like-minded travelers while in Goa.
Top Attractions: Beaches, Forts, Churches, Shopping.
Getting There: Very well connected by train and bus with all major cities in India. Goa attracts the maximum number of tourists throughout the year from all parts of India. and abroad. Solo travel in India